Whether you want to start working from home or happen to be doing a bit of freelance work on the side having an office or workplace sounds practical on the surface. However when it comes to home office many people tend to suffer from the following;  back pain; headaches, clutter, and frustration as these are all day to day symptoms of a poorly designed workspace. If you have an empty space or room that you now want to transform into an ideal work place then here are a few handy tips to ensure you get the idea office.
Asses The Room
Before turning an empty space in your home into a workplace you will need to choose a room that you can declutter and transform into your office. By simply purchasing storage baskets to collect anything that needs to be tidied away will free up counter space, if you have a lot of bedding, materials and clothing in your spare room then you will need another place to store them. If you want to reduce the amount then you can of course donate anything you don't need to charity but you can also reduce the volume by using vacuum storage bags. That way instead of storing them in the spare room which you will now be using for your office you can store them anywhere else including your wardrobe or even attic.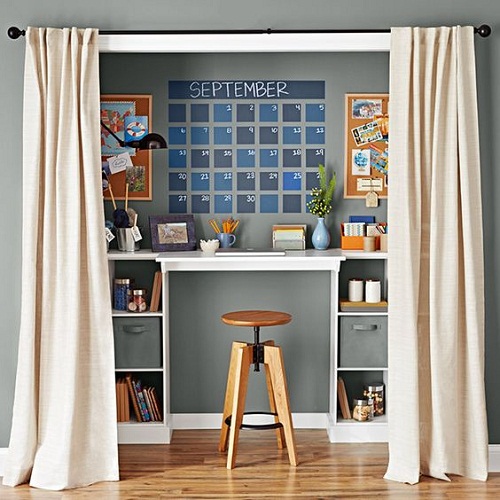 Plan For Comfort
After you have cleared out the room and are working with a blank canvas you can begin to work on the design of your new work space. You will need to consider the colour of the room, many traditional office colours are cream and white, however you can be as creative as you like from inspiring bright orange hues to soft calming greens and blues. To ensure there is maximum productivity and comfort you will need to ensure there is plenty or natural light, as natural light has also been proven to help reduce eyestrain and headaches. If there isn't that much room in your workplace then you will also need to get creative with space usage. Try to organize the room vertically and horizontally to take advantage of the space that the room offers. A great way to reduce clutter and stay organized is simply using floating shelves, as this will get all paperwork off your desk. Cube storage and storage baskets can also be incredibly space-saving as well as adding some personality.
Customize and Accessorize
After sorting out the location and setting out the basic layout you will need to personalize your workspace too. To make is more comfortable, try to choose homey accessories that tie in with the rest of your theme in your home. Show off your personality by hanging inspirational prints that reflect your own style or even fill your office with fun brightly coloured accessories like waste bins, your favourite mug and office stationary. When it comes to customizing your workspace in your home you need to choose a chair that is comfortable as well as stylish.