As the bikes became popular in India, so did the gearless scooters. In fact, the silent domination of the gearless scooters in the Indian two-wheeler industry is almost astonishing. With the arrival of the gearless scooters, no one really missed the heavy, unbalanced, and difficult to handle geared scooters, which was a rage among the older generation. The lightweight, gearless scooters, which replaced these heavyweights, made life easier  for people, especially the women. Most of the gearless scooters were mainly targeting the women, as these vehicles tried to create a niche market for themselves.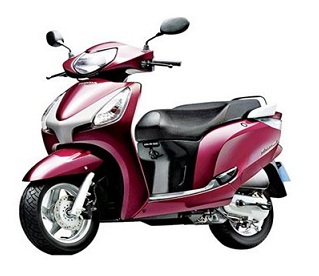 Some of the prominent best-selling scooters included the likes of Honda Activa, TVS Scooty, Hero Pleasure, Bajaj Spirit and the like. Soon other scooters like TVS Wego, Hero Maestro, Mahindra Rodeo, Yamaha Ray and Honda Aviator came to the market. Of these, following the footsteps of its older sibling Activa, the Aviator became a best seller for Honda.
Honda Aviator is a 110 cc scooter, which has done great business in India. It was launched in the year 2009, following the success of Honda Activa. Honda Aviator price in india ranging from INR 48621/- to 52598/-. This is a very competitive price, when compared to the rates offered by the rivals.
Just like the Activa, Honda Aviator is also sporting a bold design. However, the Aviator is more colourful and stylish in its design than the Activa, which sports a rather bland look. The Aviator is designed in a way that it appeals to both male and female buyers. Even though it is not as executive looking as the Activa, the Aviator can be a good substitute to the former. As such, it is more appealing to the men.
There are two versions of the bike – Standard and Deluxe. The only difference between the two is that the standard variant comes with drum brakes and the deluxe variant comes equipped with disc brakes.   However, both the variants are 109 cc bikes with 8.1bhp of power and 9Nm of torque offer an identical mileage of around 60 kmpl. The Aviator has a fuel tank capacity of six liters and a reserve capacity of 1.3 liters. It means that on a full tank the Aviator is capable of navigating more than 300 km without refueling stops.
The Aviator is a lightweight scooter weighing just 105 kg. It is 1802 mm long, 703 mm wide and 1162 mm tall, with a wheelbase of 1256 mm and a ground clearance of 145 mm. With a top speed of 80, this scooter takes only 11 seconds to achieve the speed of 60 from idle.
All these attributes makes the Aviator an ideal city scooter and worthy sibling of Activa.
For more details about Maruti Suzuki Ciaz please log on http://autoportal.com/newcars/marutisuzuki/ciaz/