Here are two recipes for pickled peppers, a slow and a faster version so you can choose the one you prefer
The pickled peppers last well preserved about 1 year. After opening the bottle, keep in the refrigerator
Recipes for Preparing Peppers in Vinegar
One way of consuming peppers, and gives us the opportunity to enjoy them in many dishes, is to prepare them in vinegar. In addition, this preparation will allow us to keep them for longer and enjoy its taste throughout the year.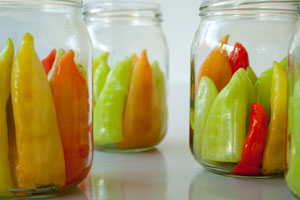 The pickled peppers can be used in the pizzas, as a garnish for grilled meats, snacks, etc.
Most important for this recipe is to carefully select the peppers. They have to be cool with your healthy skin, free of blemishes or bruises.
Recipe ingredients
- 10 peppers
– 1000 cc. white vinegar (1L)
– Sugar, salt and pepper
– Laurel, oregano and tarragon
How to make pickled peppers
Rinse peppers well without removing the reef points.
Place them in a bowl with a tablespoon of salt and cover with water. Marinate 1 full day.
Drain and distribute pre-sterilized jars.
In a pot, boil white vinegar with a pinch of sugar, pepper, bay leaf, oregano and tarragon. Boil for 3 minutes and pour into jars where the peppers are.
Consume after 40 days.
Quick recipe for pickled peppers
This is a simpler, faster version of preparing pickled peppers
The ingredients for this recipe are:
- 500 cc of oil
– 250 cc of vinegar
– 500 gr. of chillies
– 4 cloves garlic, halved
– 2 tablespoons peppercorns
– Laurel Leaves
– Pinch of salt
Preparation of quick pickled peppers recipe
Clean the peppers, remove seeds and ribs, and cut into halves.
In a saucepan, place the vinegar, oil, bay leaf, garlic, pepper and a pinch of salt.
Bring the fire and let it boil up.
Add the peppers and cook for 5 minutes.
Remove from baking and let cool before packing. Should be allowed to park a week before using.
For both recipes, well preserved peppers last about 1 year. Upon opening the bottle should be kept in the refrigerator.