That's right, chocolate lasagna that besides beautiful, is as delightful as it sounds and does not go in the oven! Let the ingredients:
1 package wafer filled with chocolate
6 tablespoons melted butter
1 jar of soft cream cheese
¼ cup cane sugar
4 cups cold milk
1 cup of whipped cream tea
2 packages of pudding chocolate powder
1½ cups of tea milk chocolate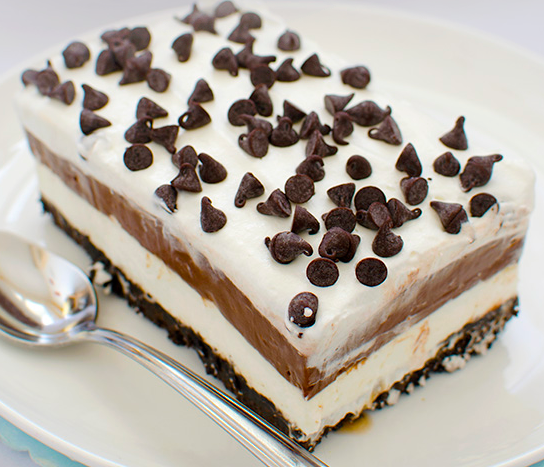 1. In a food processor, grind the cookies. Transfer the crumbs to a bowl and stir in the melted butter. This will be the base of the lasagna, place it in a rectangular shape and place in the freezer.
2. Beat the cream cheese until it is aerated, add 2 tablespoons of milk and two sugar and mix well. Enter 1¼ teaspoon of whipped cream. In the form, put the mixture over the biscuit base and return to freezer.
3. In another bowl, mix the pudding powder with the remaining milk, beat until thickened. Place on a mixture of cream cheese and let the pudding in the fridge to harden.
4. Cover the lasagna with the remaining whipped cream and garnish with chocolate confections. Take again in the freezer for 1 hour and ready.