Social networks, like all internet tools have their good and bad points. The way in which we use largely determine every aspect.
Pros and cons of social networking
Social networks have become the most media phenomenon in recent years, and although well used are a great tool to socialize, to be informed and even solicit business, as everything has its negative side.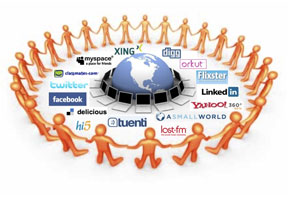 Benefits of social networks
Its biggest advantage, hence its name, is that they are social networks, that is, that allow you to connect with almost anyone in the world with just a click and "socialize" with others, attend events, share videos and photos, find out about conferences, chat with friends and acquaintances free, etc.
Besides social life, social networks can also be used in the professional area. An example is the site LinkedIn, with special tools to create a cover letter that many companies look even before viewing the curriculum itself. Also Facebook has through its pages a form of promotion for small and large businesses, or even directly to customers via sales.
In addition, most social networks are free. Simply access the Internet and a little time to create and use an account.
Disadvantages of social networking
Social networks can lead to an obsession if heavily used, or used for trivial purposes, which contribute little personally (spy photos of strangers, for example). The dubbed "social networks" also have the danger of falling into a fad, as happened for example with Fotolog, fall into disuse and become outdated within a few years.
Other against which they always talk is little privacy and lack of control of personal data of users to join social networks, as most call name, address, phone number, etc., data I do not really know to what extent are controlled by these corporations.
The last disadvantage for users of social networks is advertising that are subjected when used, and the fact that they are free to use means that these companies get money elsewhere, in this case, via advertising party advertisers, which sometimes is annoying.
Making the most of social networks
To take full advantage of social networks, it is recommended to configure each profile well, without avoiding personal information but not sharing them with others, and above all, it should be clear objective to create a social network. Not the same open an account to "make friends" which to create an attractive professional profile facing companies with which we could get to work.