Unified Communication system is an industrial design where all the tools of communication are assimilated so that both individuals and businesses can regulate all their communications. This system helps in maximizing the process of business with integrated communication. The basic intention between these systems is unification. By combining all the resources of the organization, a unified system is created.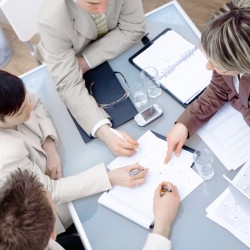 Unified Communication System provides domination over three important features
Advanced Telephony: It implies the concept of easy dialing i.e. short number dialing which beats the usage of all types of codes. Advanced telephony also provides for call forwarding to other devices in a business anywhere in any department. It provides the feature of impeccable phone system.
Cheaper calls and comfortable Billing: Unified communication system offers affordable calling as it is based on the digital network and the billing is done through a single vendor so it becomes easy and a problem free task for the organizations. It also provides for predictable bills so that a business knows its monthly expenditure on these areas.
Concept of presence: Presence implies the desire and readiness of a person to communicate. It presents out the presence technology, which permits the co–worker to see his availability and responds to an individual. It also helps in knowing that user is working on a tough project at present.
Benefits of Unified Communication System in a Business
This system provides the long term saving in cost for any institution since the email and telephones which are the most important tools of the communication are managed through single enterprise and thus there is a reduction in the costs of hardware and software.
Reduction in long term costs leads to the higher efficiencies which further reduces the labor costs and thus the IT staff can be freed and provide their time for other opportunities and be of a great importance to the business.
In a business, unified communication system makes uncomplicated to be in touch with clients, and are ensured to get answers to all their solutions.
Unified communication system helps to work anywhere when things can't be avoided.
Lastly, unified system maximizes the productivity of a business since it communicates the information to the right people at the right time which in return speeds up the process of development.
Constituents of Unified Communications System in a business
At first place it includes all services related to multimedia such as fax, voicemail and more importantly email.
Secondly, all the communications which are considered to be real such as conferencing and instant messaging.
Thirdly, all kinds of online services.
Lastly, all kind of transactions such as online banking.
How unified communication is related to contact management?
At the end, it can be said that unified communication renders the integration of contact management which implies a sole, easily approachable phone systems for all contacts related to business, which can be comfortably accessed from different locations and gadgets. This is manageable because unified communication works on a centralized server.