Details for Selecting Bathtub
The factors need to consider when selecting bathtub is various. Except the common sense for bathtub, home owner must know clearly about the size, style of bathtub. Details determine success or failure. If customer considers all the details about bathtub, it will improve the experience of using bathtub largely.
1 the size of bathtub
The size of bathtub is decided by bathroom. Home owner must measure the dimension of bathroom before selecting bathtub. The floor area of bathtub in different shape is different. For example, triangle shaped and heart shaped bathtub installing in the bathroom corner occupy more space than square bathtub. You'd better consider whether your bathroom is large enough to install them. Check nice round bathtub for your home here.
2 the height of bathtub water outlet
The height of bathtub water outlet is another details home owner must consider. If you like to lie comfortably in bathtub with full water, then the height of water outlet should be higher. When the location of water outlet is too low, water will drain out of tub when it over the outlet.
3 the weight of bathtub
The weight of bathtub is related to its material. Home owner should consider the load bearing capacity of flooring when selecting bathtub.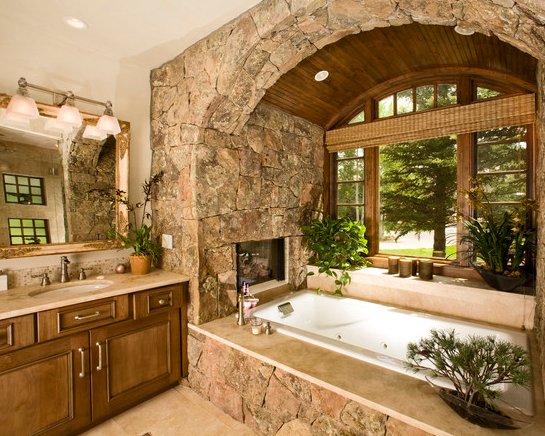 4 the safety of bathtub
The Number of accident happened in home increased largely recent years. People pay more and more focus on the safety of home decoration. When there is senior, kids and disabled in home, bathtub height, handrail, anti-skidding treatment around bathtub is overarching details must consider.
5 the selection of bathtub function
According to function, bathtub is divided into common bathtub and massage bathtub. If you want to buy massage bathtub, then you should test whether the hydraulic pressure, electric power of your bathroom satisfy the installation requirement of it.
6 hacks for selecting bathtub
The secret for selecting high quality bathtub is "watch, touch, press and listen". Watch refers to watch the luster of bathtub – know the quality of bathtub material by its surface luster. Touch means the smoothness of bathtub – this method suit to steel made bathtub and cast iron bathtub. Press is to test the firmness of bathtub – it is realized by pressing with hand and treading by foot. Listen whether the noise is large when inject water in bathtub.
Maintenance Tips for Bathtub
Bathtub can bring comfortable enjoy to us. It is a good way to relieve fatigue and adjust mood for modern people. We should not forget to maintain it after using. Elaborate maintenance not only can prolong its service life, save much bill, time and energy for selecting new one, but also can improve our using experience. No one wants to take bath in a tub with stain, damage, and coarse surface. Ok, let's get into the business – how to properly maintain your bathtub? Find more home improvement tips at melodyhome.
1 clean the bathtub once a week
Use sponge or lint to clean acrylic bathtub. Avoid using coarse cloth, scouring pad and detergent with particle to clean it. Cast iron bathtub should wash with clean water and dry with soft cloth every time after use. A few abrasive cleaning agent can be used to remove stubborn stain. Soft nylon brush is the best partner for cleaning the anti-skidding bottom. Do not scrub bathtub with steel wire ball, steel wire brush and grinding sponge.
2 deal the stain, incrustation and mildew on bathtub surface softly
Used soft toothbrush can get rid of stain and remove mould at the same time. The most headache thing many housewives met is the cleaning process of stubborn stain. Here is solution: scrub the stubborn stain with lemon and salt or scrub with soft toothbrush and whitening toothpaste. The closestool cleaning product is the enemy for incrustation. Incrustation will peel off after coating closestool cleaning product. Wash mildew and bacteria with bleaching water and peroxy water. Remember to dry immediately after they are removed.
3 do not move the bathtub without professional's guide and repair the damage on bathtub timely
Do not move the bathtub after installation without professional's guide. When scratch is found, scrub timely with clean rag and colorless automatic polishing solution. Apply a layer of colorless protection wax after that.
4 deal pipe blockage timely and sterilize at fixed time
The pipe should be cleaned once or twice a week. One side, it can remove peculiar smell, on the other side, it can prevent the reproduction of bacteria. Pour specialized sewer cleaning product and wash five minutes later.