The Telegraph proclaimed Northumberland a birder's paradise back in 2007 and it's no exaggeration to say this is one of the finest areas in the UK for bird watching at its best. We're talking about an entire collection of spots which boast a vast array of rare birds and other wildlife – each one unique from the other.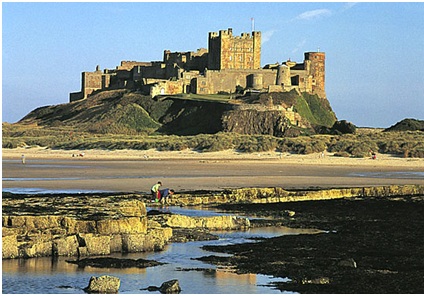 Such diversity means a birder can easily stay here for the duration, soaking up the variety of habitats, vantage points and exceptional species that are spread out amongst the region. And many do stay here, taking advantage of the quaint villages, towns and fantastic hotels in Northumberland – everything a birder could possibly need in perfect proximity to these fantastic watching spots.
Seahouses
Seahouses is a great place to start your day of bird watching; a harbour village from where your boat ride to the fantastic Farne Islands begins. Even the harbour itself claims regular visits from Glaucous, Iceland Gulls and Ivory Gull, originally drawn here by the fishing fleet that started its demise a few years back now.
The highlight here could certainly be the incredibly tame Eiders who are rarely shy to approach anyone with food. Aside from its wonderful call and immaculate plumage it's a true experience to get this close to a bird of such beauty and a fine way to start your day.
Farne Islands
A short boat ride will take you to the most famous tourist attraction in the area, pulling in many thousands of visitors each year. This is in no small part due to its population of more than 50,000 pairs of Atlantic Puffin and excellent spots to see them in action. They're not alone though and, if you time your trip somewhere between May and July, you stand every chance of encountering a bustling colony of terns, razorbills, kittiwakes, shags and guillemots – as well as the island's famed puffins.
Stag Rocks, Bamburgh
Stag Rocks makes for a great day if you team it up with the nearby Budle Bay. If you're lucky, you may be able to catch a glimpse of the Grey Phalarope, while Black-throated Divers, Red-necked Grebes and the beautiful Little Gulls are a more common sight. Move on to Budle Bay and you'll hopefully be able to add Brent Goose and Barnacle Geese to your list of spots for the day.
Monkshouse
Heading back towards Seahouses from Banburgh you'll find a group of houses perched upon the foreshore – welcome to Monkshouse. Winter is the ideal time to visit this spot where you'll likely be greeted by Pale-belled Brent Geese, Red Knots and others at the shore.
Head inland until you find the rare presence of freshwater pools – aptly named Monkshouse Pools – with a long reputation for attracting Waders and other species. Little Ringed Plovers are a regular visitor in July, but the highlight at this time of year has got to be the vibrant red plumage of the Black-tailed Godwit, should you be lucky enough to find one.